There are numerous meditation apps out there, and each one is unique and offers different features you can enjoy if you want to relax. Considering all the factors is essential before choosing one!
1. 25 Best Meditation Apps You Can Use to Relax 2023
Website: https://breethe.com/
When you use Breethe, you get a mindfulness coach working with you five minutes a day, every day. They teach you how to breathe, handle life's challenges, and have peace of mind.
In addition, you can enjoy a more restful sleep with Breethe because it offers nature sounds, bedtime readings, and relaxing music playlists.
There are some downsides to it, though. Some users say they've experienced technical difficulties, and you'll have to pay after a 14-day trial, so keep this in mind if you want to download it.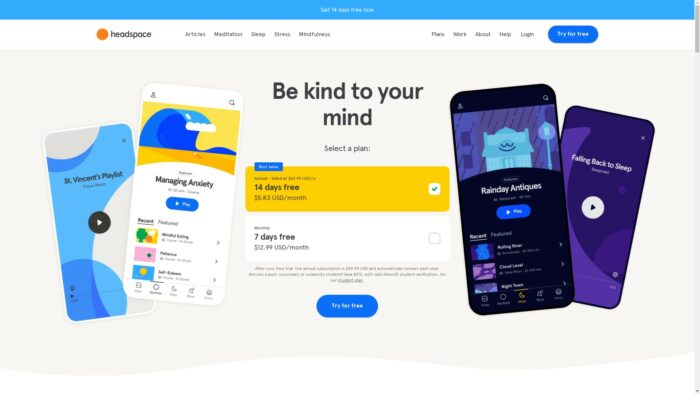 Website: https://www.headspace.com/
You'll find meditation guides for all levels in Headspace. Since it has a user-friendly interface, you can quickly learn how to use it!
Both beginners and experts will find fantastic meditation exercises on this app. In addition, there are hundreds of options to choose from. However, you'll need a subscription to access most alternatives, and it could be expensive.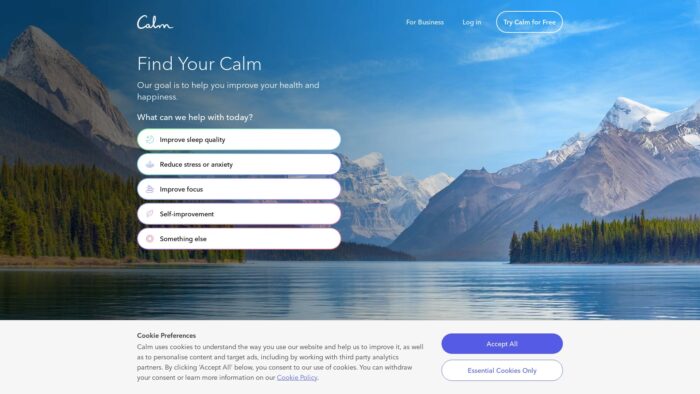 Website: https://www.calm.com/
With short meditations and soothing backgrounds, Calm is one of the most famous apps you'll find out there. Even though it's less structured than other alternatives, it gives you relaxing sounds as well.
Moreover, you'll get various individual exercises. The downside of this option is that it's not the most intuitive app out there, and free features may be limited.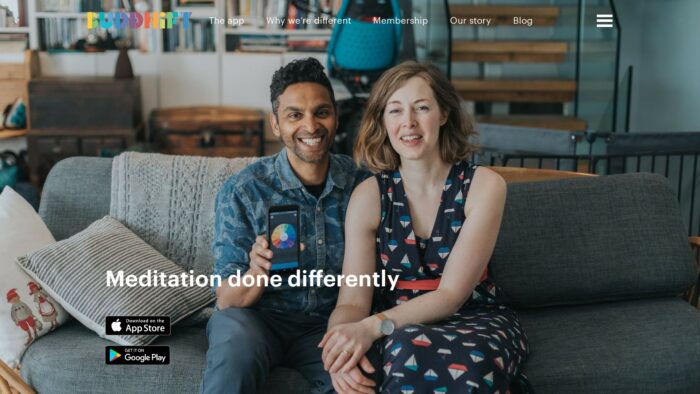 Website: https://buddhify.com/
This is one of the few apps that you'll have to pay for before downloading it. It has all the features many people want, including options for kids.
The app allows you to create your own wheel of meditation with your favorite exercises, making the process very fun. Nonetheless, it has no free features and there's no desktop version either.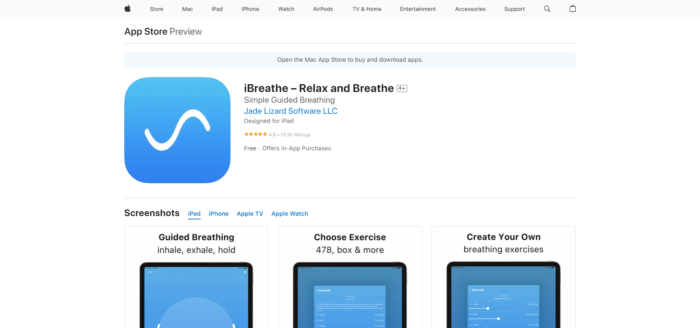 Website: https://apps.apple.com/us/app/ibreathe-relax-and-breathe/id1296605806
Beginner meditators often want to try different things, for example, experimenting with session length, various breathing intervals and cycles, and so on.
With iBreathe, you can take the wheel when it comes to your meditation sessions. Since it lets you control all the aspects of it, you get to decide how much of each breathing technique you want, along with the session length.
You'll also find meditation presets, and you can choose those if you don't want to tweak the features of your sessions. However, the disadvantages of this app are that it's only available for iPhones, you won't get many options, and you'll have to deal with ads if you have the free version.
Website: https://apps.apple.com/us/app/breathe-breathing-exercises/id1106998959
People need to practice before getting the hang of meditative breathing because it's not the same as regular breathing.
The purpose of Breathe+ is to teach you how to breathe properly and get all the benefits of it. With time, you'll be able to hold your breath for up to 30 seconds, inhale and exhale to relax, etc.
There's free content available, so it's ideal if you're on a budget. In addition, the monthly subscription is very cheap compared to other alternatives.
Nonetheless, it's for iPhone users only, you'll get ads with the free version, and some say it lacks options when it comes to several types of meditation.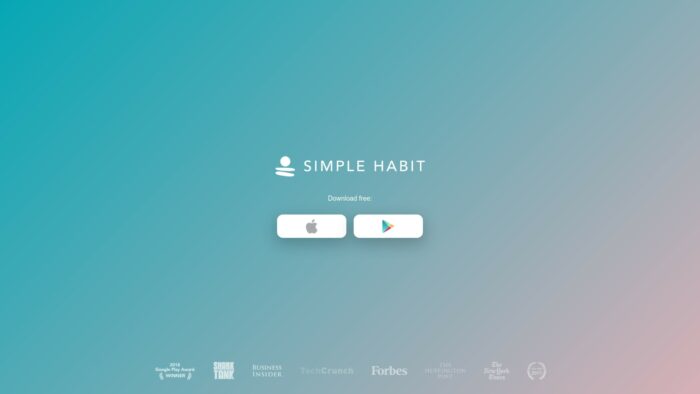 Website: https://www.simplehabit.com/
Some people want to get more out of their meditation sessions. If this is you, Simple Habit may be the app you've been looking for.
With the app, you can boost your confidence, improve your sleep quality, manage anxiety, get over a breakup, or just be more present in your daily life.
Since each meditation has a specific title, you'll waste no time finding what you need. The downside of Simple Habit is that there aren't many long meditation session options, and you'll have to pay to unlock all the features.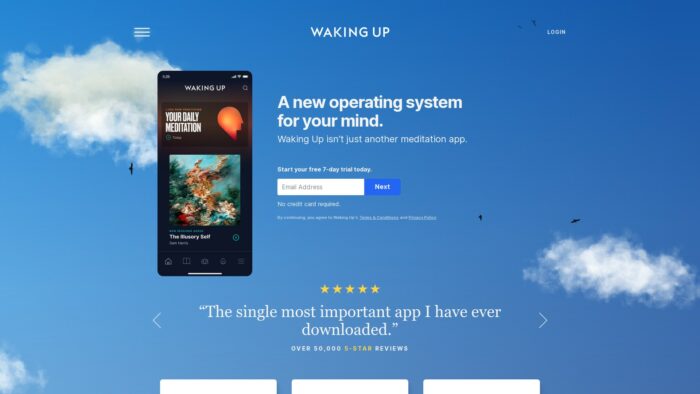 Website: https://www.wakingup.com/
Sam Harris is the mind behind Waking Up, and he's a public intellectual and a New York Times best-selling author.
Waking Up offers numerous science-backed meditation courses and different resources that will help you relax and live a more mindful life. Additionally, it includes tools about free will, philosophy, and selfhood.
The major con of Waking Up is that it's immensely expensive. The yearly subscription is about $100, and you'll have to pay $799.99 for lifetime access.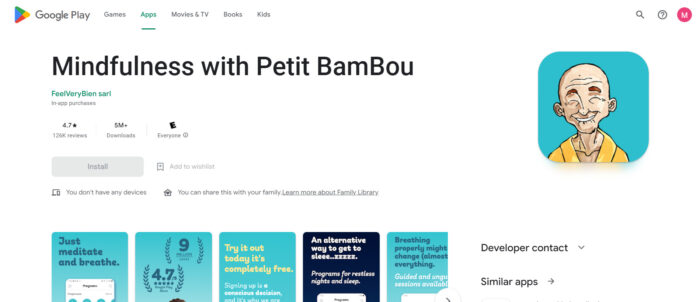 Website: https://play.google.com/store/apps/details?id=com.petitbambou&hl=en_US&gl=US
Children as young as five can use Mindfulness with Petit BamBou and start their meditation journey. You'll find numerous courses from three to 50 minutes long, and they're available in many different languages, including Spanish, German, and English.
All the courses in Mindfulness with Petit Bambou are based on positive psychology, mindfulness, and cognitive-behavioral therapy. Therefore, scientific research backs them up!
Mindfulness with Petit BamBou has some downsides too. Firstly, users have reported technical difficulties. Moreover, having so many options could be overwhelming.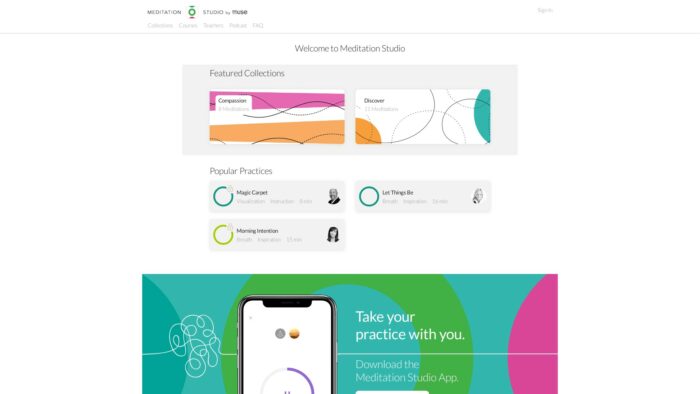 Website: https://meditationstudioapp.com/
Everyone has different needs when it comes to meditation. While some want to improve their sleep quality, others wish they were more present during their daily activities.
Meditation Studio is different from other apps because it lets you tailor your sessions to your goals. You can choose between different options, for example, happiness, health, curiosity, or feeling calmer.
Overall, there are multiple customization features and options on this app. The main disadvantage of it is that you'll have to pay a subscription to access it all. Some users have reported technical issues and crashes, too.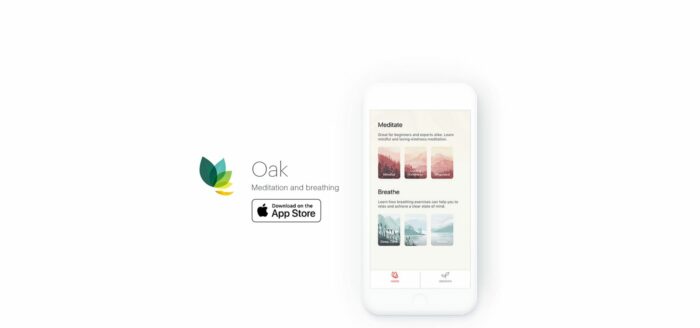 Website: https://www.oakmeditation.com/
If you only need a quick meditation session to calm you down and boost your energy levels, Oak could be the ideal app for you.
The short exercises at Oak are ideal to feel at peace, especially when you're trying to sleep. Since most content on it is free, it's a fantastic option for those who are on a budget. However, it's not available for Android users, and some have said it lacks options.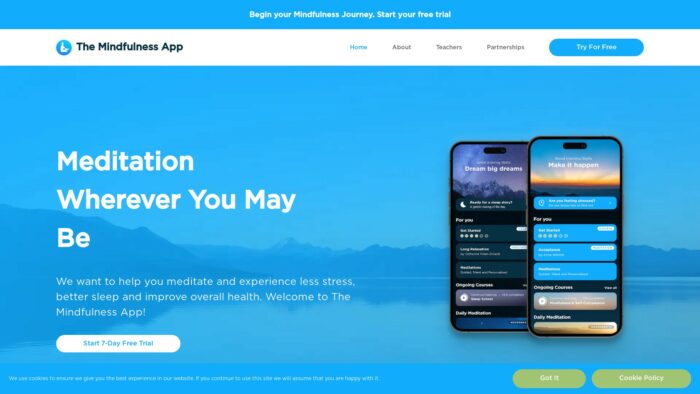 Website: https://www.themindfulnessapp.com/
Both experts and beginners have said great things about The Mindfulness App. Firstly, the beginning of your meditation journey is with a five-day guided practice and introduction to mindfulness.
If your days are often busy, you can choose between numerous guided meditation sessions, which range from three to 30 minutes in length.
You can also turn on reminders to stay relaxed, track your process in your meditation journal, and get personalized options. The downside of The Mindfulness App, though, is that you'll have to pay to unlock all of its premium features.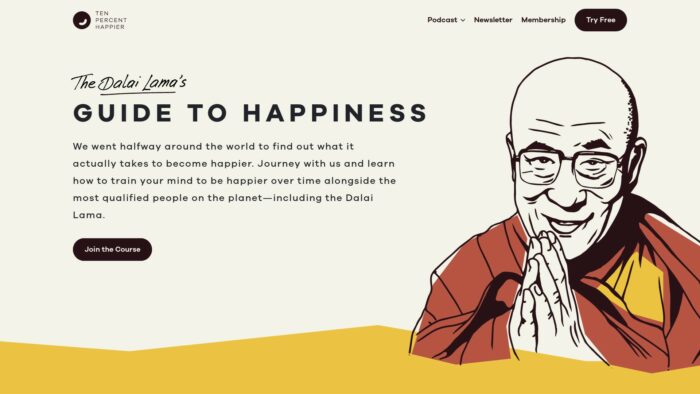 Website: https://www.tenpercent.com/
Beginners will love Ten Percent Happier Meditation because the app offers easy-to-follow options for when you're getting started.
Furthermore, it has short sessions, and you can increase the time you meditate as you go on. Its interface is user-friendly, it displays numerous options, and it's a fantastic alternative to managing stress and sleep.
Nonetheless, the membership cost is above average. In addition, more advanced practitioners may find that it lacks alternatives for them.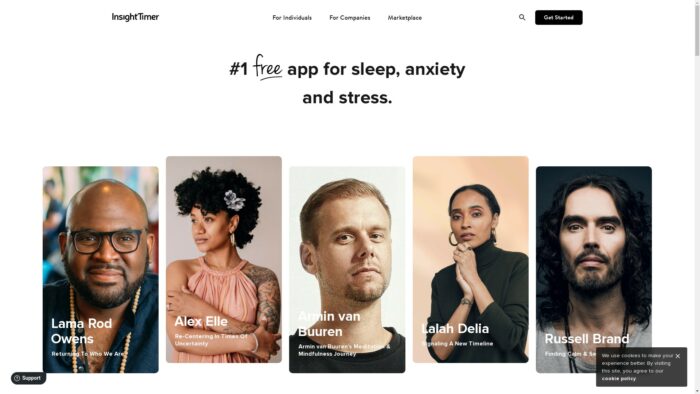 Website: https://insighttimer.com/
This is the most convenient meditation app for many people because it has a giant free library for you to relax.
With over 150,000 options, it's the ideal app if you're on a budget. You can quickly filter content, communicate with other meditators, and more.
Since there are so many alternatives, some users feel overwhelmed. Lastly, it's not very intuitive, and it may have some glitches, so keep this in mind before downloading it.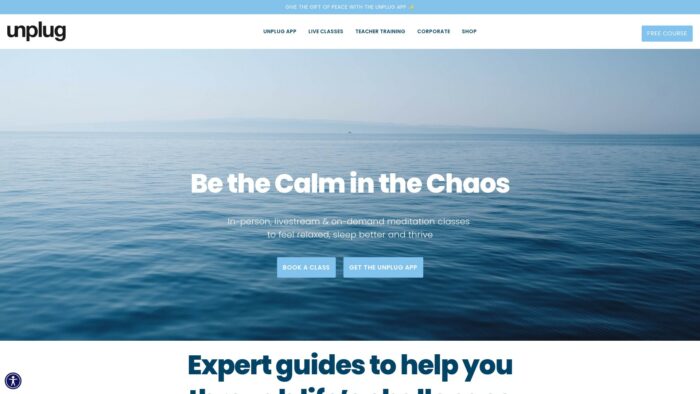 Website: https://www.unplug.com/
The motto of Unplug is that it's an app for people who 'don't have time to meditate but want to take advantage of all its benefits.'
You'll find expert-guided exercises and get numerous short and long alternatives to choose from. In addition, there are more than 100 guides and even teacher training if you want to help others through their journey.
However, you'll have to pay if you want to keep using the app, and some people say it's expensive.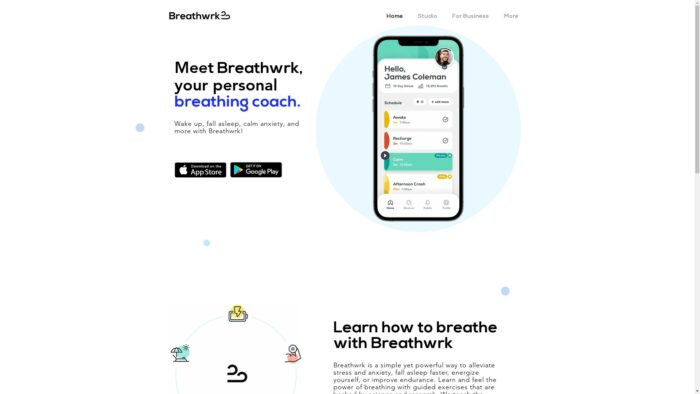 Website: https://www.breathwrk.com/
Meditation sessions on this app are meant for you to have more energy and feel more relaxed. Furthermore, teachers will explain how to do breathing exercises you can try out without Breathwrk.
If a boost of energy is what you need, Breathwrk could be the ideal app for you. Remember that you'll need a premium subscription for most features, though, and you must also have internet access while using it.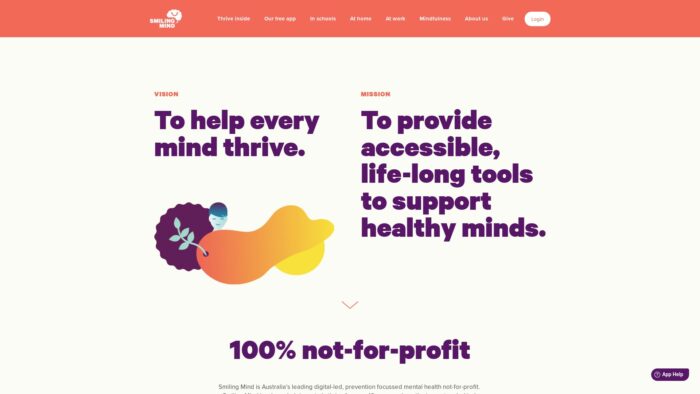 Website: https://www.smilingmind.com.au/
The main pro of Smiling Minds is that it's completely free. The app is specifically for children, and it helps them relax.
Meditation sessions are one minute long at first, and the app also has programs for children three and older. The downside of it is that they'll need a phone or tablet to use it, you'll have to register with an email address, and since the voices narrating the exercises are Australian, it could distract some of them.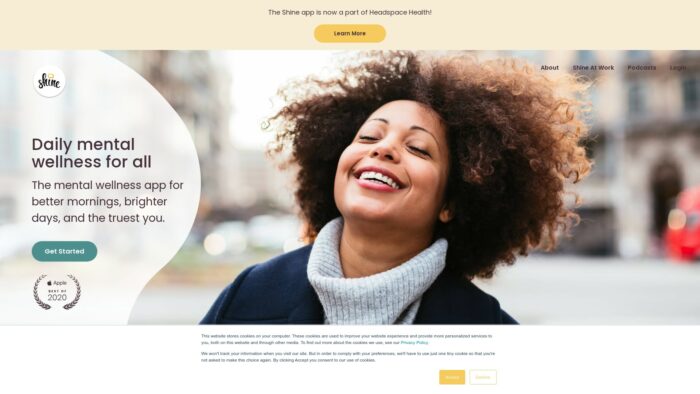 Website: https://www.theshineapp.com/
A Black woman and a half-Chinese woman created Shine because they thought other apps excluded traditional wellness practices. Therefore, even though the meditation exercises on this alternative are one of its best features, it has other options as well.
If you have the free version of Shine, you can enjoy daily meditations that include a quick motivational message. Additionally, you'll also be able to access three other sessions for the afternoon, evening, and more.
The app's full meditation library will be available if you go for the premium version. Plus, with it, you can also enjoy bedtime stories, gratitude check-ins, self-care exercises, and the Shine Squad, Shine's community.
Clearly, Shine offers numerous top-notch features to enjoy. However, most of them are behind a paywall, which may not be convenient if you're on a budget.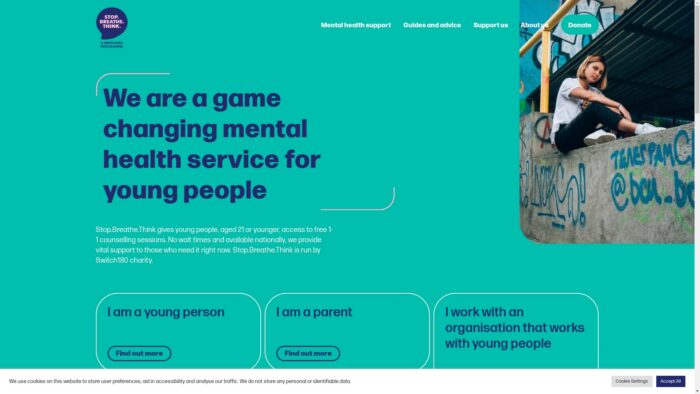 Website: https://www.stopbreathethink.org.uk
Many people just want to get away from the world, even if it is just for a few hours a day. MyLife Meditation is the ideal app for it since its emotion-guided sessions will help you calm your mind and disconnect from everything.
With MyLife Meditation, you get more than 400 exercises to choose from. Furthermore, sleep tracking and yoga poses are also available. Since its design is so pretty and straightforward, it's often eye-catching for many users.
Although it's available for both iOS and Android, you have to pay to use this app. Even so, many people go for it because they say it has helped them when they're feeling anxious or depressed.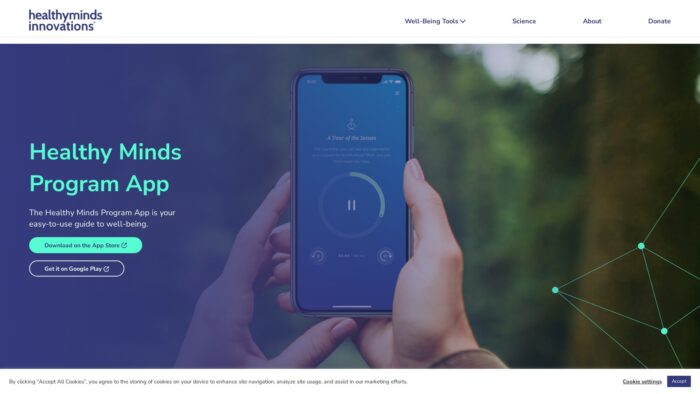 Website: https://hminnovations.org/meditation-app
The Healthy Minds Program app exists due to a nonprofit affiliated with the University of Wisconsin-Madison. It includes exercises, meditation sessions, and lessons that help you build even the most basic mindfulness skills.
In addition, you'll also get to understand why and how meditation works, which is not something all apps offer you. It's a fantastic feature for both skeptics and enthusiasts!
Healthy Minds Program has a targeted approach, so it's also the ideal app if you often get overwhelmed by the number of options that other alternatives give you. The downside of it is that some users have reported glitches.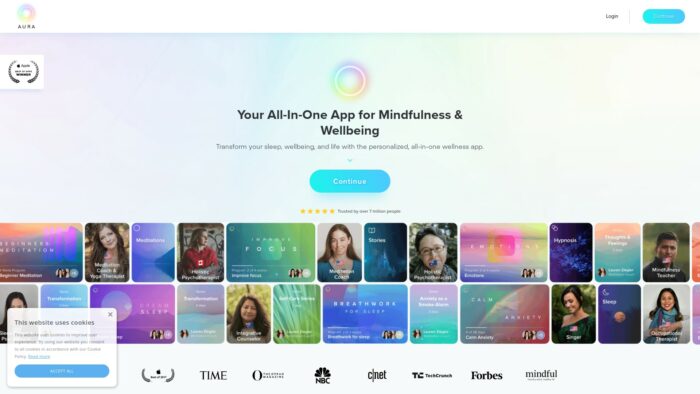 Website: https://www.aurahealth.io/
You can meditate for just three minutes a day with Aura. It's the best option if you're busy and just need an app to pick up whenever you're free.
With Aura, you get customized recommendations depending on your experiences and mood. It'll also offer personalized playlists, almost like Spotify.
Regardless of whether you want a sleep playlist or a quick meditation session, Aura will give it to you. A community of users and teachers is also available and very active, and you can engage with them and tell them how you use the gratitude journal, mood tracker, and life coaching features of the app.
The main con of Aura is that part of its features require you to pay. However, some say that its free version is more than enough if you just want to use it from time to time.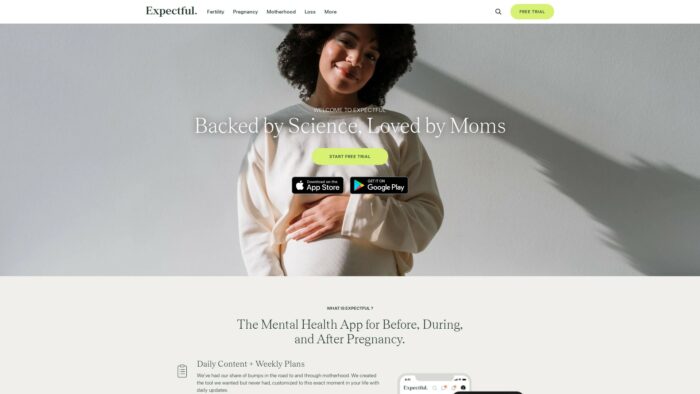 Website: https://expectful.com/
You've been waiting for it, and it's here: Expectful is the app for pregnant women. It's also a fantastic alternative for parents, people dealing with fertility issues or trying to conceive, and their partners.
There's a myriad of options when it comes to meditation tracks, and you can even get different alternatives for each pregnancy trimester. Moreover, it also has a sleep tracker and other tools to help you unwind at the end of the day, such as soundscapes and stories.
The best part of Expectful is that all the tools are based on interviews with people who have been through the same as you. However, keep in mind that you'll have to pay to access all the features that it offers.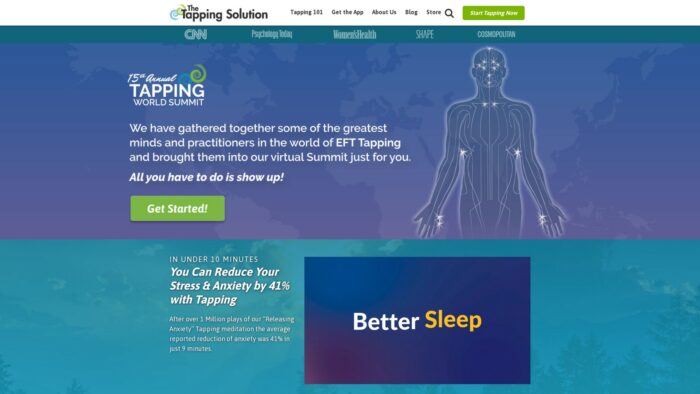 Website: https://www.thetappingsolution.com/
Plenty of people say they enjoy the theory of meditation, but they can't get the hang of practicing it. If this is you, The Tapping Solution could be the ideal app to download.
The Tapping Solution builds meditation sessions around an alternative technique, which combines aspects of acupressure, exposure therapy, and cognitive-behavioral therapy. Its primary goal is to reduce stress, PTSD symptoms, anxiety, and more.
You'll get access to a wide library if you get The Tapping Solution. It'll help you handle all the areas of your life that could cause stress, including finances, family, work, and politics. There are options for people with sleep issues as well, for example, support if you're experiencing racing thoughts.
Keep in mind that you'll have to pay if you want to get full, unlimited access to all the features in The Tapping Solution, and this is its most relevant downside.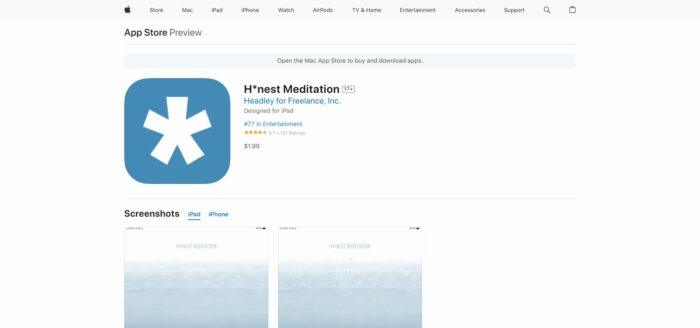 Website: https://apps.apple.com/us/app/h-nest-meditation/id1059195733
Although the cheery, positive vibes of many meditation apps are what attract people, some don't like them. H*nest Meditation exists for those users because according to the developers, this technique is supposed to help you deal with the worst things in the world.
All meditations in H*nest Meditation include swear words, making the app a unique option. Each session is between two and 10 minutes long, which is enough time for you to get it all out and unwind.
Although this is a paid app, it's very cheap compared to other options. Therefore, its major con is that it's not like the other relaxing, calming alternatives.
1.25 Sowlmate
With a unique library of meditation sessions and different courses that you can enjoy on the go, Sowlmate has become very popular since it's focused on the LGTBQ+ community.
Some meditations aim to help with mental health difficulties. Additionally, there are others tailored for more specific experiences common to people in the LGTBQ+ community, such as dealing with family rejection, breakups, and handling discrimination.
Even though Sowlmate is the ideal option due to its multiple specific features, you have to pay a monthly subscription to get full access to it.
2. The Bottom Line
Using meditation apps is a fantastic idea to learn the basics of it, live a more mindful life, and relax. Even though they don't replace professional help or other practices, they can be of help, so choose your favorite and give it a try!
3. Frequently Asked Questions
3.1 Can a Meditation App Help Me?
Meditation apps can help you feel more relaxed, manage your stress levels, and more.
3.2 How Often Should I Use Meditation Apps?
You can use meditation apps as often as you want. Some open them every day, while others just rely on them occasionally.
3.3 Is Meditation Good for Anxiety and Depression?
Meditation can help you ease anxiety and manage depression symptoms, which is why many experts recommend it!