Alli is the only FDA-approved over-the-counter weight loss product available.
This is great news for those of you that are skeptical about purchasing a non-FDA-approved natural weight loss supplement.
This diet pill is the reduced-strength version (60 milligrams vs. 120 milligrams) of Orlistat (Xenical), a prescription drug used to treat obesity.
Since Orlistat first became available as prescription medicine in 1998, more than 40 million people have tried it and of these, more than 10 million have used Alli.
Does Alli work?
Is it really safe?
Read my Alli review below to find out if this natural diet pill may work for you.
How Does Alli Work?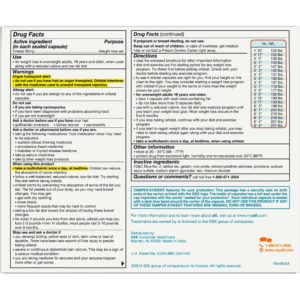 Alli encourages weight loss by decreasing the absorption of fat in the intestines, which reduces the number of calories absorbed.
For example, an enzyme called lipase is found in our digestive tracts and helps to break down dietary fat into smaller components so that it can be used or stored for energy.
Alli works by disabling lipase, which prevents the enzyme from breaking down the fat while it's in your digestive tract.
The undigested fat continues through the intestines and is eliminated through your bowel movements.
You are instructed to take Alli with fat-containing meals; up to 3xs a day.
Because Alli prevents the absorption of fat in your intestines it is recommended that an individual consumes no more than 15 grams of fat with each meal.
If you consume a meal that has more than 15 grams of fat in it, you may suffer from some of the unpopular Alli side effects such as urgent bowel movements, diarrhea and gas with oily spotting.
Peace of Mind with Orlistat
If you are looking for a natural diet pill that offers plenty of scientific examination, Orlistat is by far the most studied weight loss medication in the world.
In fact, there have been more than 100 clinical studies that have involved in excess of 30,000 patients with this diet medication.
The reason Orlistat has been approved by the FDA is that it has been proven to block up to 25% of the fat that you consume from being absorbed.
This weight-loss method is favored over other weight loss supplements that otherwise affect your nervous system or act as an appetite suppressant.
Pros:
Alli is approved by the Food and Drug Administration for over-the-counter use as a weight loss aid. It's the only weight loss product with FDA approval.
Alli doesn't stimulate the nervous system or act as an appetite suppressant.
Alli claims that you can lose up to 50% more weight than you would if you were to pursue dieting alone.
Alli should not affect your heart rate, liver, brain or cause sleeplessness.
Alli does lower cholesterol and risk of type 2 diabetes with extended use.
Cons:
If you consume a meal with more than 15 grams of fat, you may experience side effects.
Alli is not as powerful as some other diet pills but is still proven for long-term weight loss if taken correctly.
Orlistat decreases the absorption of certain fat-soluble vitamins (ie. Vitamins A, D, and E) and thus you will need to supplement your diet with these nutrients after taking Alli.
Where do I Buy Alli and How Do You Start?
If you are located in the US, you can purchase Alli from Amazon here: click to read user reviews on Amazon.
If you are located in the UK, you can purchase Alli via an authorized distributor here: click to purchase here.
Alli is not only a diet pill but a fully comprehensive holistic system.
If you go to myalli.com you will discover that the Alli plan includes community support, achievable goal setting (or steps), educational nutritional insight, online tools and the Alli capsule (helps you to understand how to eat healthier).
Once you've purchased Alli, you can activate your free MyAlliPlan membership and access helpful online tools and features, including:
Alli Overview 10-day program with steps to guide you through your first week of MyAlliPlan.
Personal MyAlliPlan home page where you can chart your progress, check out the latest steps, meal plans, and more.
Interactive tools help you avoid hidden calories hiding in popular foods.
Online journal so you can record your thoughts along the journey.
Lessons from clinical experts in weight loss-health professionals who know what you're up against.
Healthy and delicious recipes, smart meal plans, and dining out guide – all the tools you need to achieve a healthy, sustainable weight and a happier state of mind.
If you are interested in trying Alli, I'd recommend purchasing the Starter Pack, which includes weight loss capsules, the shuttle (a carrying case that makes it easy to take Alli capsules with you), MyAlliPlan personalized online program developed by nutrition and weight management experts and reference booklets.
As part of the Alli Starter pack, you will also receive helpful and easy-to-carry guides that include:
Welcome Guide.
Companion Guide.
Healthy Eating Guide.
Calorie and Fat Counter.
Daily Journal.
Quick Facts Cards.
How long do I need to take Alli?
According to the Alli manufacturer, the most significant weight loss occurs within the first 6 months.
It is important to adhere to a low-fat diet and exercise routine to assist the body in natural permanent weight loss.
And again, please understand that the manufacturers of Alli consider this diet pill to be a weight-loss aid and not a miracle pill.
You will see the most dramatic results if you make an effort for daily exercise combined with healthy eating habits.
It isn't a wonder drug but can help you lose weight if you make the effort. The recommended dose is one 60mg capsule with each main meal containing fat.
Here's a recent news clip on Alli in the news.
Listen and find out how one man lost more than 30lbs as part of a new healthy diet!
It also talks about the more fat that you consume as part of your daily diet will also inevitably increase the side effects (possibility of frequent bowel movements) but is still considered very safe.
Actual Customer Reviews:
5.0 out of 5 stars, November 28, 2011, Timi Mafua (Kent, WA United States)
You can read a million reviews positive and negative about this product. For me, it has worked. I have lost 26 pounds in the last 6 months. The facts? You need to eat right, exercise and limit your fat intake. If you do that, this product will give you the extra help in eliminating some of the fat you take in. Its not magic and it wont help you if you aren't willing to do the work. No side effects if you aren't eating cheese burgers, fries, pizza, etc. The product came within a few days of purchase, was not over-packaged and the price was right. I would purchase from this seller again.
5.0 out of 5 stars, October 21, 2011, Chase b
As soon as this stuff was over the counter I picked it up and started taking it. It has been a great experience for me with fortunetly none of the side effects people talk about. I was able to lose about 30 pounds with the help of Alli, diet and exercise, and also some appetite suppressants.
5.0 out of 5 stars, October 17, 2011, Molly n Britts Mom (Southern CA the United States)
I've been taking Alli for 6 months and have lost 50 pounds. For every one pound you would lose on your own, you lose an extra two with Alli. Combine this with a low carb diet and it works! I have very little time to exercise but I can tell you that in 6 months I have dropped 5 dress sizes.
4.0 out of 5 stars, October 6, 2011, Sara Ludwig (Charlottesville, VA)
I really like what Alli has done for me since I have started using it. I have lost and kept off 10 stubborn pounds that would not come off before I purchased this product. Alli, combined with a sensible diet and daily walks, keeps those extra pounds off. I was not bothered by side effects (probably because I stuck to the guidelines which is strongly advised)and was able to get it at a reasonable price from Amazon. Compared to the big drugstore chains, and even Target and Walmart, Amazon had the best value.
Alli Diet Pill Review Conclusion
I tend to favor the natural diet pills that work with your digestive tract rather than affect your nervous system or act as an appetite suppressant.
Does Alli work? Yes. But only if you are committed to losing weight naturally and for the long-term. It isn't as fast-acting as the other natural diet pills available, but you will see results.
Click to read user reviews on Amazon