Hydroxycut Hardcore claims to be America's #1 hardcore fat burner! (website).
They tout clinical findings and claim Hydroxycut Hardcore will decrease your total fat area by 7.9% (website). This Hydroxycut Hardcore review will reveal the truth behind the claims.
Hydroxycut Hardcore Ingredients:
Proxyclene Fat Loss Blend 742mg.
Green tea extract, (as Camellia sinensis) (leaf) Standardized for 90% polyphenols, [75% catechins (45% epigallocatechin gallate, 10% epicatechin gallate, 8% epigallocatechin, 4% epicatechin, 3% gallocatechin gallate)] Note: a lot of times they'll include all of this information to look more impressive. It's green tea folks!
Caffeine anhydrous Supplying 280mg caffeine (this is high caffeine content).
White willow extract (as Salix alba) (bark).
Aspidosperma quebracho-blanco extract (bark).
Norepidrol Intensity Focus Blend 171mg.
Deanol acetamidobenzoate hydrogen tartrate.
Xanthinol nicotinate.
Evodia rutaecarpa extract (as Tetradium ruticarpum) (fruit).
Inula racemosa extract (root).
Standardized for 2% alantolactone.
Codonopsis pilosula extract (root).
Lasidrate Delivery Blend 55mg.
Troxerutin (as Sophpra japonica).
Inositol hexaphosphate.
Cnidium monnieri extract (seed).
Black pepper extract (as Piper nigrum l.) (fruit).
Yohimacore Yohimbine Blend 4.5mg.
Methyl 17 alpha-hydroxy-yohiman-16alpha-carboxylate hydrochloride.
Other Ingredients:
Sesame oil, FD&C Red No. 3, FD&C Black Shade, silica, gelatin, shellac, isopropyl alcohol, butyl alcohol, dehydrated alcohol, propylene glycol, sodium hydroxide, povidone, titanium dioxide, FD&C Yellow No. 5.
What's Our Take on that Exhaustive List of Hydroxycut Hardcore's Ingredients?
We like green tea as a diet pill ingredient. It has been proven to contribute to weight loss.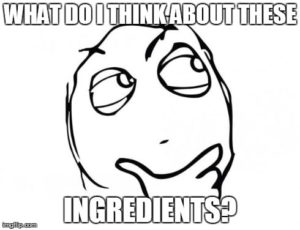 Caffeine has been proven to increase metabolic function, which can lead to weight loss. White willow bark is an anti-inflammatory/pain reliever similar to aspirin. It may enhance the thermogenic effect and increase the body's ability to utilize fatty acids while preserving lean muscle tissue. Further research is needed to substantiate these claims. Piper nigrum l (black pepper) is a thermonutrient because it enhances the body's natural thermogenic activity. I don't know if the ability to absorb more nutrients will directly translate into lost weight. Yohimbine has been shown to increase fatty acid mobilization.
What does the research say about Hydroxycut Hardcore?
The Hydroxycut website leads you to believe that Hydroxycut Hardcore diet pills have been thoroughly researched. This is very misleading.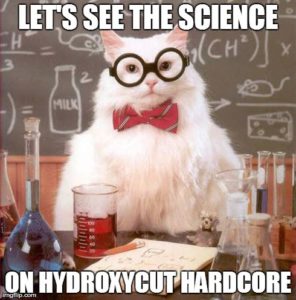 Like many other diet pills, Hydroxycut Hardcore has not had any research done on it. There has been researching done on individual ingredients, but none at all on this combination of ingredients. Clinical studies have found that several ingredients in Hydroxycut Hardcore do contribute to weight loss. However, Hydroxycut Hardcore has blends of ingredients rather than disclosing how much of each ingredient is included. This makes it impossible for consumers to compare Hydroxycut Hardcore diet pills with clinical findings. It is also impossible for this Hydroxycut Hardcore review to determine just how effective this product is.
What are the side effects of Hydroxycut Hardcore?
Side effects of Hydroxycut Hardcore include increased heart rate, jitters, diarrhea, nausea, and changes in stool color.
Hydroxycut Hardcore Price
One bottle of Hydroxycut Hardcore diet pills contains 120 capsules and costs $59.99. If you take the maximum recommended dose of 6 capsules per day, one bottle will last 20 days. That is $3 per day, which is very expensive, especially since there is no way of knowing how effective this product is. You can also find it on Amazon at a cost of $18.44 per bottle, but make sure that you're not buying a fake version!
Hydroxycut Hardcore Review Conclusion
This Hydroxycut Hardcore review has found that Hydroxycut Hardcore is really no different from many other diet pills. They make big claims which they try to back up with clinical findings, but they fail to disclose the ingredient amounts included. Spend your hard-earned cash somewhere else. We recommend using a product that can legitimately back up its claims.